Double-fluted drill
High feed rates for short-chipping materials
Two-lip drilling – a related method of deep drilling – is used in the diameter range from 6 to 25 mm and with L/D ratios up to max. 40 mm. The tools are double-edged and usually have two guide pads in addition to the two circular grinding chamfers.
These tools are made either entirely of carbide or with a carbide drill head in combination with a tubular steel shank or solid steel shank. Due to the smaller chip space, these tools are ideal for short-chipping materials.
The special extra
of our double-fluted drills are the high, realizable feed rates for short-chipping materials that they have over conventional single-fluted drills.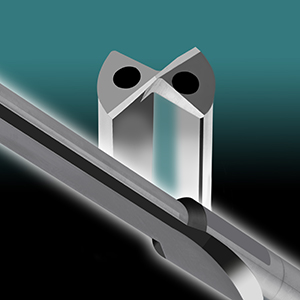 Tools
tbttools@tbt.de
T: +49 7123 976-352
F: +49 7123 976-350

More deep-hole drilling tools