High-speed tools
Patented HS cutting geometry
An innovative TBT high-speed cutting geometry. The precision-ground tool surface and an ultra-smooth layer due to proprietary top finishing allow feed rates up to a factor of 5 compared to conventional solid carbide single-lip drills. We will be pleased to provide you with further information on request.
The high-speed single-lip drills from TBT have a special grinding with a chip former located on the main cutting edge. In order to be able to realize feed rates of 400 to 800 mm/min depending on the material, the complete tool is made of solid carbide.
.
To reduce investment costs, the drill head of the HS single-lip drill is brazed onto a conventional steel shank. This allows significantly longer and less expensive drills to be produced. With this variant of a high-speed single-lip drill with steel shank, the feed rate could be tripled compared to the conventional single-lip drill. The tool life of the drill head was doubled despite the higher feed rate.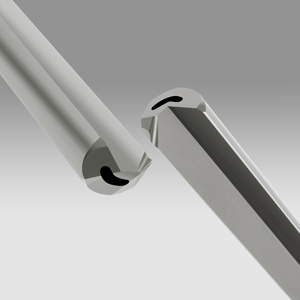 Tools
tbttools@tbt.de
T: +49 7123 976-352
F: +49 7123 976-350
More deep-hole drilling tools